With the growing number of fines imposed on large financial institutions, as well as incidences of money laundering and fraud touching reputable organizations, regulatory bodies are closely monitoring the entire industry and in turn, reporting standards and transparency have become more important than ever before for firms to ensure their compliance. Financial Institutions are especially under the magnifying glass concerning their regulatory compliance and should have a plan in place to digitize these processes to avoid noncompliance repercussions.
The growth of RegTech is in response to
Γ₧ó Massively increased costs of compliance

Γ₧ó Post-crisis regulatory changes requiring massive additional data reporting and disclosure

Γ₧ó Data Science development and AI/ML implementation for predictive analysis

Γ₧ó RegulatorΓÇÖs efforts to enhance efficiency of supervisory tools

Γ₧ó Implementation Advantages which include Reducing time needed for client onboarding, Identifying the frauds, Adapting to new regulations faster, Improve data collection and data analytics
In itself, combination of regulation and technology is not new. But regtech companies are gaining attention due to the increased levels of penalties and fines due to the complex regulatory reporting procedures. Emphasis of regulators on data and reporting has given the birth to the new breed of technology companies. Though similar to risk management companies, regtech companies are unique as they are using the new technologies such as artificial intelligence and machine learning.
RegTech uses many cutting-edge technologies such as artificial intelligence, real time big data analysis, cybersecurity, cloud computing, machine learning, to name a few, which ensure companies are more effective in reaching regulatory compliance. RegTech has helped to minimize the risk of human error by automating the processes. RegTech, therefore, fills the current gap in the financial sector by bringing technology to address regulatory challenges, since many firmsΓÇÖ current regulatory practices constitute legacy and manual processes that are no longer feasible to address the growing list of regulatory obligations.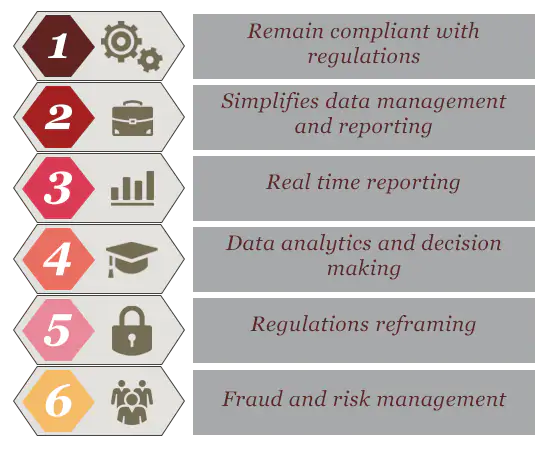 The implementation of RegTech is not just limited to the financial sector. One such example of RegTech implementation shall be taken from the Aadhar project initiated by the Government of India where they are leveraging biometric screening in Aadhar which has successfully authenticated 1Billion+ identities and growing. AI could make Aadhar the most comprehensive identity database in the world. The exploitation of RegTech in the financial sector can be seen by JP Morgan Chase machine learning project COIN, i.e. Contract Intelligence review where time spent by humans reviewing contracts to ensure regulatory compliance was 360,000 Hours Vs. <1 Minute of time spent by COIN reviewing the same contracts. This demonstrates massive efficiencies that are to be gained with the application of RegTech not only in the financial sector, but in each and every organisation of future.
Understanding between compliance as a department and a function, and actually complying to regulation there's a slight misunderstanding there. The biggest regulatory challenges uncertainty we see a lot of that in today's geopolitical climate such as things like brexit that have happened, new administration's coming in and old ones going out, new regulations are being recasted and redrafted etc. These all bring with them a certain level of uncertainty which makes it quite difficult for us to solve and preempt things that are going to come up for. Also if we look at the cybersecurity angle of things, data is a very precious commodity in itself and we have to be sure that that data is well protected and the right systems are in place.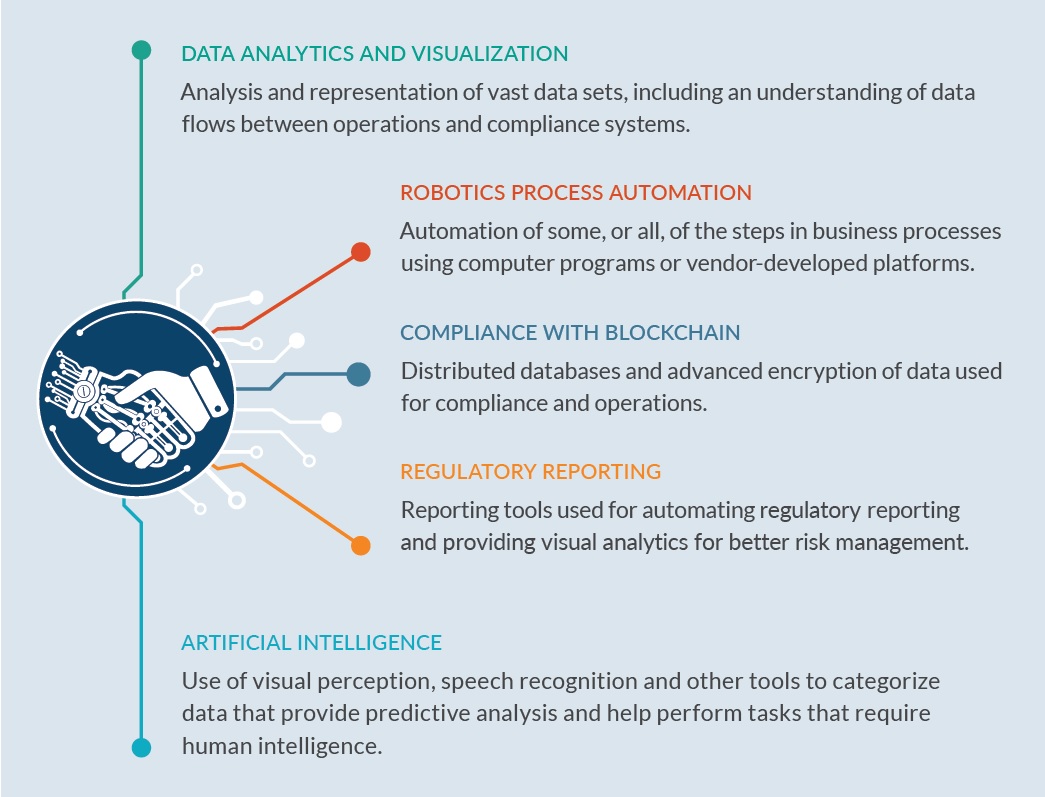 Future of Regtech:
A successful RegTech strategy extends to engagement with other institutions and regulators to test and scale solutions faster with reduced cost and risk. For example, the development of shared testing facilities for solutions, using machine learning, to automate the management of regulation impact and change. RegTech will help financial institutions to co-create and scale solutions rapidly in partnership with financial institutions and FinTechs.
In terms of future trends, it is estimated that spending on RegTech will rise by an average of 48% per annum over the next five years, rising from $10.6 billion in 2017 to $76.3 billion in 2022, according to a report from Juniper Research. The rapid and transformational changes brought on by RegTech need to be monitored and evaluated so that regulators and society can keep up with the underlying technological and entrepreneurial flux.
The future of RegTech is very bright indeed. The reason being as we head towards this seismic shift and the fourth Industrial Revolution led by technology, every single industry and sector will be changed and transformed by this advancement in technology. This will produce financial, economical, political and even to a certain extent ethical questions that will require certain checks and balances to be put in place. Now those checks and balances can be helped to be streamlined and made more efficient by having RegTech being embedded at the core of every single industry to make sure that those protections are there for the consumer to protect their privacy and thus RegTech is at the core of all of that.